PROCESS EFFICIENCY:
THE SKY IS THE LIMIT
---
Experience significant gains in appraisal process efficiency with
Appraisal Firewall's extensive, customizable feature set.

Watch a full-length video of Appraisal Firewall's "Top Ten Features."

These features were selected by mortgage banks, community banks, and credit unions as being their favorites among thousands of software features.

Review a host of other key features below.
Request a Demo
---
Efficient appraisal ordering
Appraisal Firewall offers mortgage lenders fast, highly intelligent appraisal ordering features that are proven to help lenders reduce loan processing time
---
Residential, commercial, FHA, USDA appraisal ordering

Automated, highly-intelligent order assignment ensures you get the most qualified appraiser based on subject property and appraisal product every time

Work directly with your known and trusted appraisers once they accept the order

Fully integrated with the LOS you need to create a seamless ordering process. We offer the most complete appraisal interface available in the Encompass LOS. Read more about it.
Appraisal lists and
order management
Manage order lists at a glance, and customize how you want to view your order list data
---
Quickly find the order you need right now with filters, widget tools to organize your order lists, and advanced searching

Designate the information you want to see in your order list

Export all or only selected orders to a spreadsheet

Customize order data in columns for information at a glance

Customized columns are stored for future use each time you login
---
Communication features
At the heart of Appraisal Firewall is an all-encompassing communication system that keeps all parties aware of every appraisal order's progression toward completion.
---
Know the status of every order with instant messaging capabilities

Messaging features between lender and appraiser, with double-blind messaging the default on all lender-to-appraiser messages for your protection

Automated system messages texted or emailed to users lets you know what's happening with each order as they progress toward completion

Connect with customer service in the application with all questions
Effective team and user management features

get complete organizational oversight with Appraisal Firewall
---
Create administrators to easily oversee large-scale work: appraiser panel management, AMC management, branch management, user management, and more

Setup individual users and easily manage individuals and user groups

Configure users to administer work for other users, providing a global view of users and orders

Manage multiple offices and branches from one place

Upload investors' exclusionary and/or inclusionary lists to manage which appraisers on your panel match or do not match your investor lists
---
Activity tracking and management
Management reporting features ensure you know what's happening with your orders, users, appraisers, and costs all the time
---
Pre-configured reports give you a baseline of data to track all user activity in the system

Create custom reports, and include whichever data points you prefer to bolster knowledge of system activity

The availability of any and all data components let you identify and anticipate order trends and appraisal costs
Pricing and cost management features

---
Work directly with your appraisers to ensure customary and reasonable fees are in place: happy appraisers equal better appraisals

Accept your appraisers' pricing, or enter your own appraisal pricing

Setup your pricing based on service area: state, county, zip code

Allow pricing negotiations between you and your appraisers, or fix prices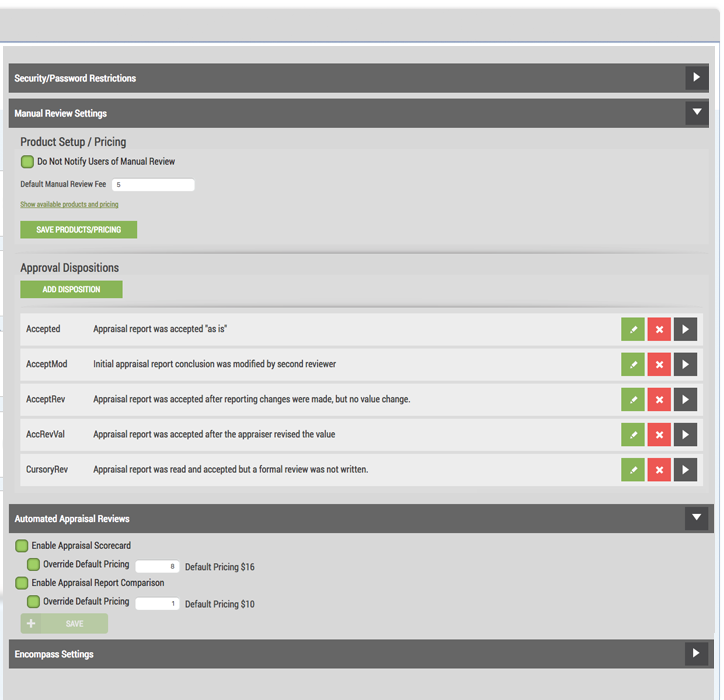 ---
Quality control features
Quality control features to protect your lending business and manage appraisal risk
---
Comprehensive appraisal risk management

Multi-layered features reduce cost, go beyond what's in the appraisal report

Automated QC workflow streamlines appraisal delivery and completion

Enable all QC features, or pick and choose based on your needs
Regulatory compliance features

---
Double-blind, automatic order assignment to appraisers

Commissioned staff does not know which appraiser receives order

Communications log feature tracks every message back and forth from lender to appraiser, plus all system activities, on every order

Compliance documents are stored to compile and include in your loan package for added regulatory protection

Fully automated Reg B compliance – you don't even have to lift a finger to know you're compliant